Cat Paw Socks for Cat Lover, Women's Novelty Socks Cute Cat Paw Pad , Pack of 5 cute cat paw print socks
Do you love playing with the cute claws of your furry babies? At some point in life, your pet becomes everything and putting your legs in these cat paw socks will be the 'purrfect' way to show everyone how much you affectionate your cat.
Wearing this adorable one of a kind cat paw socks will make your legs look exactly like kitten paws. Whether you pair these socks with an outfit for your casual day out or use it to keep your feet stay warm during winters, you will remain comfortable all day. 
The socks come with prints and patterns that match with cat claws, so if you wear it at a party or office, your legs are sure to receive attention.
Don't forget to shoot cat puns, these adorable cat paw socks is guaranteed to create amusement anywhere and will have even the grumpiest party pooper cracking a laugh.
Features :
realistic cat claw design

made with high-quality coral material

comfortable to wear all-day

wear on any occasion

keeps your feet nice and warm during winters

arrives in crew length

stays damage-free - wash it either with your hands or in a machine
Benefits :
Turn your feet into cat feet just by pulling these cat paw socks and let the world catch your humorous vibes. 

 Can't resist the soft and cozy feet of your cat? Cat paw socks are made from the best quality cotton; throwing your hands over these socks will make you feel the same. 

Arrives in different colors and styles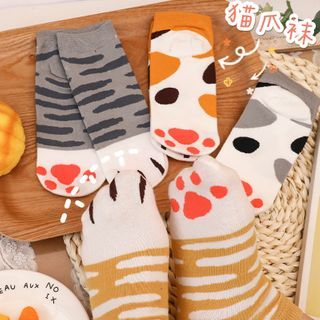 Goes well with any outfit, wear it for all-day comfort. It even keeps your feet warm during winters.

Surprise your cat lover friends on special occasions. It makes a thoughtful gift idea