Collapsible hanger pack of 10, Space Saving Clothes Hangers, Wrinkle Free Clothes, Vertical Hanging
No matter how big your closet is, it always runs out of space. Everyone love to create collections so that they never out of options for wearing on different occasion. To create a quality collection, you need to make sure that your clothes are well organized.
Introducing Collapsible Hangers - installing these Space Saving Clothes Hangers in your closet will help you manage space for multiple clothes in the space of one. 
 Stashing the clothes by smashing in the closet or leaving them on the floor with a pile of other clothes isn't suitable for clothes. It can cause wrinkles, and you will lose the quality of the precious and favorites.
However, Storing your clothes on these hangers will keep track of your clothes so that you can find them easily, even when you're in a rush, and maintain the actual value of your clothes. 
Features :
the collapsible hanger is multifunctional - use it as a regular hanger to store suits, clothes, pants, shirts, skirts, etc. 

It also functions as a holder where other hangers are accommodated

It comes with 360-degree rotatable hooks for positioning the hanger freely on different angles so that other hangers can fit as well
It has nine holes that allow other hangers to fit gently, keeping your clothes in order and organized. 

The collapsible feature allows you to adjust either horizontally or vertically, determining your need. 
Built with high-quality PP material, the hanger is durable. it can withstand a capacity of up to 22lbs

It has wide curve edges for smooth operation. 
Benefits :
Expands your closet space

Keeps your clothes organized

Keep track of your favorite clothes and find them quickly at the hour of need.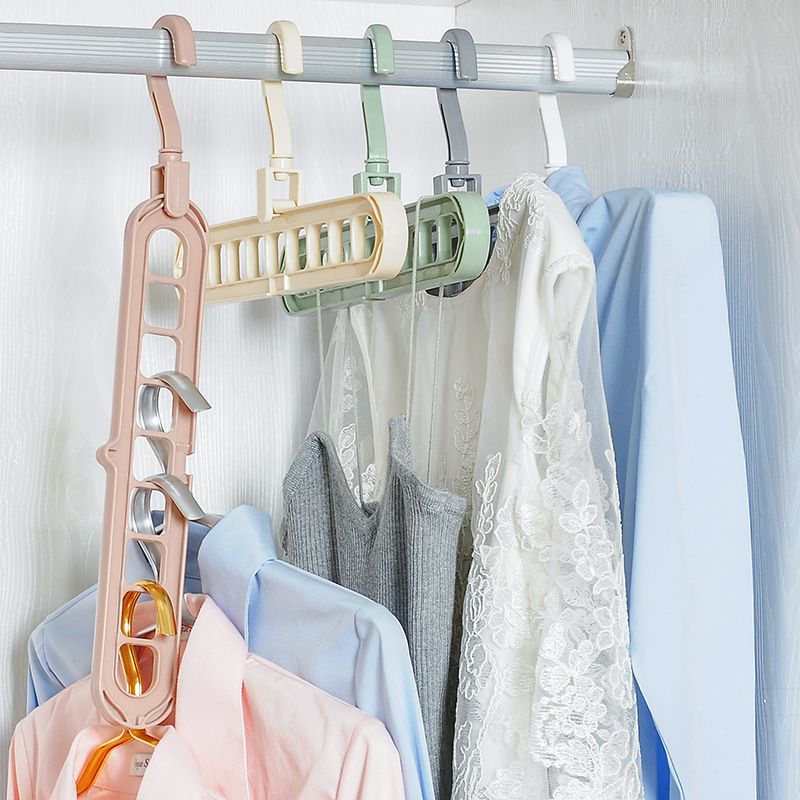 the 

collapsible feature that allows adjusting the hanger either horizontally or vertically provides even more room for your clothes

makes a perfect gift for someone who always faces trouble storing their clothes and ends up with a filthy mess around their room.