Drill brush power scrubber, drill brush attachment set, Tub, Shower, Tile and Grout All Purpose Power Scrubber Cleaning Kit
Are you tired of dusting corners using traditional methods? And Still, failed to receive the correct result? It's high time that you start valuing your time and effort by switching traditional methods to unique and much efficient ways—introducing drill brush power scrubber, that raids hard to reach areas like no other and with its ultra tough bristles cleans any surface in no time. 
Drill brush power scrubber arrives in a set that includes six different scrubbers. No matter how narrow the corners or spaces between fixtures are, this ultimate set of power scrubber will dust the dirt off in a snap. 
Features :
Cordless drill brush power scrubber is built with stiff bristle fiber

 Brushes are attached to the block very securely

 Constructed to last long. 
Offers heavy-duty scrubbing efficiently

Works excellent on concrete surfaces, sideways, stone, fireplace, patio, bricks, driveways etc. 

Each brush type comes in two variants and has different cleaning potential.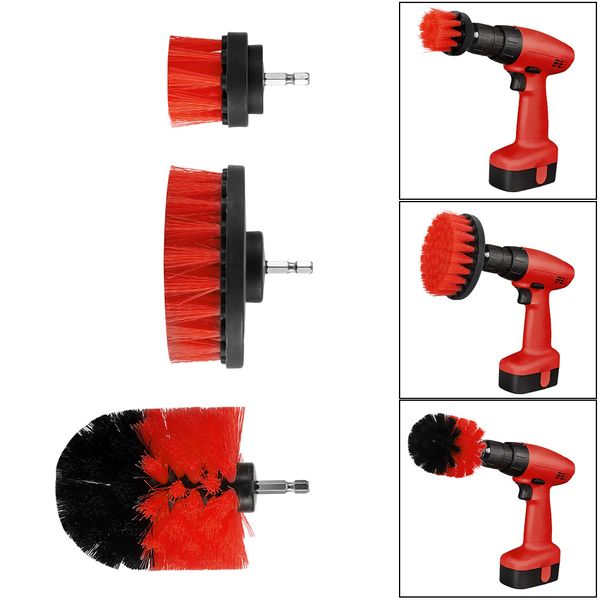 Feature quarter inch quick change shaft

Fit in drills without cord

Fits in impact drivers as well. 
what does each scrubber offers :
The 3.5" long works perfectly for corners with round edges like buckets, artificial ponds, and concrete pools. The set also comprises a 3" mini version of the original for cleaning narrow corners and crevices around fixtures and pipes. 

 The 2" long and 1.5" long brushes of both the variants are excellent for cleaning narrow spaces and a specific spot in a very detailed way.

The 4" and 5" round, flat brushes with stiff bristles are for cleaning flat surfaces, siding, patios, garden planters and table decks.