Electric Flopping Fish Cat Toy, Realistic Floppy Fish Cat Toy, Plush Interactive Toys For Cats
When your pet stays for a while, you start to love them like your own child. Eventually, they become a part of the family. Ensure they get all the attention & playtime they deserve, even when you can't with a floppy fish cat toy, and they'll nip crazy!
Made from super-soft cotton and plush, this toy is not only very satisfying to play with, but it's also pet friendly as it has properties that allow cats to paw, punch and scratch without injury or harm.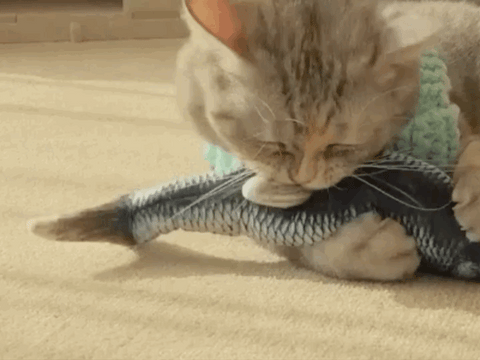 Floppy fish cat toys are filled with cat crack and will entertain them endlessly for hours on end. You can get your work done and ensure your pet is involved in entertainment. This realistic-looking Moving Fish Cat Toy is a hit with both cats and humans.
Features :
REALISTIC FISH SIMULATION - 

The floppy fish cat toy not only looks like a real fish, but it acts as a whole fish as well. It will flop when touched and stay still when left alone.
MOTION-BASED SENSOR - 

The Fish can adjust its flopping slower or faster according to the motion around it. The toy flops more quickly when it detects movement. Otherwise, it slows down and eventually stops.

This feature saves energy for a more enjoyable playtime!
BUILT-IN RECHARGEABLE BATTERY - 

it comes with a USB charger and a built-in battery that lasts for days after a full charge so that your cat can receive enough entertainment and relieve the stress throughout the day.

REFILLABLE CATNIP POUCH - 

The  Cat Safe Velcro Pocket makes it Easy to Refill with Catnip Over and Over Again!
DURABLE & PET-SAFE MATERIAL - 

This high-quality floppy fish toy is so durable that you don't have to worry about the toy's safety being scratched or bitten by the cat.
Benefits :
Give Your Pet The Good Life - Your pet makes your life a better and happier place. Please return the favor by getting them an entertaining toy that they will go wild!
Fur Babies Get Tons of Exercise - Your cat will scratch, punch, paw, and attack the very living crap out of this item, trust me. It will not only keep them occupied, but it will also offer them a good workout.
Makes A Perfect Gift Idea - this floppy fish toy makes for a fantastic gift during the holiday season! Be the talk of the town among your pet loving friends with your incredibly loving gift.