Gameboy Phone Case for iPhone, Phone Case Game Console with 36 Classic Game, Full Color Display Video Game Phone Case for iPhone
Do you miss playing good old classic games like snakes and Tetris in the era of modern gaming? Here is the good news for you - introducing a Game Boy phone case for iPhone. This case will protect you from any accidental damage and help you execute boredom by exploring a range of original Game Boy titles.
Having this one-of-a-kind protective gear on the rear of your smartphone will give you plenty of nostalgic moments to share along with your friends and amaze them. Surf upto ten classic games like blocks, snake, Tetris, tank games, and racing games with more than 270 levels. 
 Features:
It comes with preloaded retro games 
Easy to install- the clip-on design makes the protective case easy to set up. 

Slim and compact - it has a minimal impact on your device without adding much bulk to your device. 
It has an impact-resistant polycarbonate shell, and the protective case has a sturdy shell and high accuracy cut-outs.

The buttons and ports are easily accessible. 

The shock-absorbing high-quality material gives maximum protection from accidental damage like dropping. 
 It has a similar game control layout, and the buttons are slightly raised, which feels like rubbing your hands over the original Gameboy console. 

Extend the life of the screen of your iPhone- the case wraps its screen leaving your device's screen untouched. 

 The case operates with 2032 button cell batteries draining no charge from your device.

2 color option to choose from - White and Black
Available for all iPhone variants.

functions -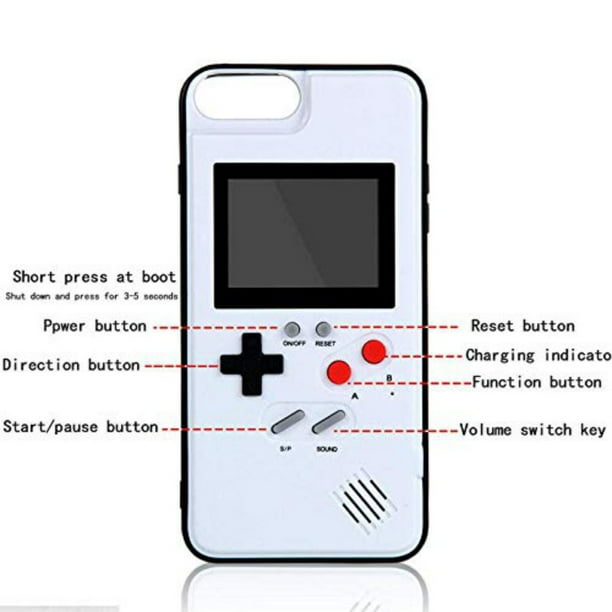 Benefits:
Protects your phone from accidental damages

It makes your phone look like a good old classic Gameboy console.

Play up to ten classic games like Tetris, blocks, snakes, formula one racing, etc. 

Make a thoughtful gift for a game enthusiast.