Mandoline slicer cutter chopper and grater, multi functional vegetable slicer kitchen tool
Everyone loves food. Yet if the food being served lacks that perfect shape and appears oddly, will you be pleased?
Certainly, there are foods and vegetables that need to be cooked or served with uniform shapes, size and cuts. Introducing mandoline slicer cutter chopper and grater, this must-have tool for the kitchen will take all your troubles away while cutting, slicing and grating.
Features :
Straight, waffle, wavy, small julienne, French fry - This adjustable slicer does more than anything that you think of. With a mandolin slicer, you can achieve cuts ranging from the thickness of 1mm to 7mm in eighteen different styles.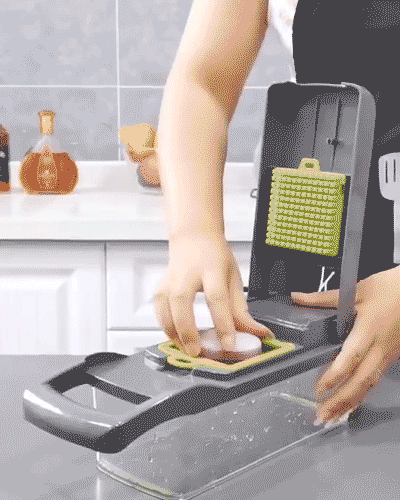 Versatile blades - Unlike other slicers, the mandolin slicer is equipped with 8 blades of different shapes, size and thickness and different knobs. This saves you from the hassle of changing blades every time you feel the need for another shape or bigger/smaller size. 
The knob positioned at the bottom changes the shape of the blades. 

Using the knob positioned in the middle, you can shred vegetables in both thicker or a thinner way. 

And the topmost knob holds the most functions. Use it to change the thickness of the vegetables; all you need to do is pull the knob out and rotate it. 
The mandolin slicer is a combination of stainless steel, food-grade plastic that makes it durable. It has a rubberized grip attached to the leg that can be folded when not in use, this adds more convenience while using.
Easy to use and clean - Select the blade and thickness by turning the knobs positioned on the side of the slicer for safer transitions between blades. This safety feature protects your fingers from the sharp edges of the blade. 
Benefits :
keeping this tool in your kitchen, you'll find the real pleasure of cooking as you spend most of your time making the meal delicious and not cutting, shredding or slicing. 
Achieve different thickness, lengths and shapes while shredding or slicing your favorite fruits or vegetables. 

Make a perfect gift for any occasion, bring this as a gift to any friend who is a professional chef or a beginner; they will be more than happy to receive this thoughtful kitchen tool. 
12 in 1 Vegetable Chopper 
What You Get:
8 x interchangeable stainless steel blades
1 x Egg Separator
1 x Drain Basket
1 x Peeler
1 x Hand Guard