Mushroom Moon Lamp 3D Mushroom Lamp Light Decoration Night Light Pat Light
Mushroom Falling from the Sky
The mushroom has been a divine and enchanting symbol in human history,
and it brings you mystery, delight, belief and romance.
Decorate your own world with this Mushroom moon light - cast a gentle glow over your desk or bedside table.
The mushroom night light is one of those lamps that delivers perfect balance of brightness and exposure, ideally required for falling anyone to sleep.
Whether you plan a romantic evening for your partner or tell your loved ones a bedtime story, this unique mushroom night light comes with 16 different color modes to choose from. Setting the ideal one will instantly change the room's ambiance into something joyful and romantic. 
Most terrestrial night lamps are attached to wire or cord to consume electricity for power. The annoying wire feels so extra and offers no mobility. Whereas the mushroom night light has no wires, it is powered with a rechargeable battery that can stay LIT for 20 hours on a single charge.
Features :
The mushroom-shaped design looks appealing and creative.
it has 16 different color modes to choose from 
Adjustable brightness control allows you to choose the right amount of ambient lighting without overpowering the room. 
USB charging port - this doesn't keep you tied with the wire every time you use the light. 
high run time - 500mAh built-in battery, after the full charge, the lamp can be used 6-10 hours, a full charge takes about 1-3 hour 

(note: the run time depends on the brightness level and usage)

It is safe for everyone - it is made with PLA material extracted from corn stalks, making it safe for your kids and keeping it in your bedroom. 

Easy to store and easy to carry. 
Benefits :
Take your room's ambiance to a different level with this uniquely beautiful lamp with a 3D mushroom structure. 

It is an excellent addition to your child's bedroom, making them fall asleep faster.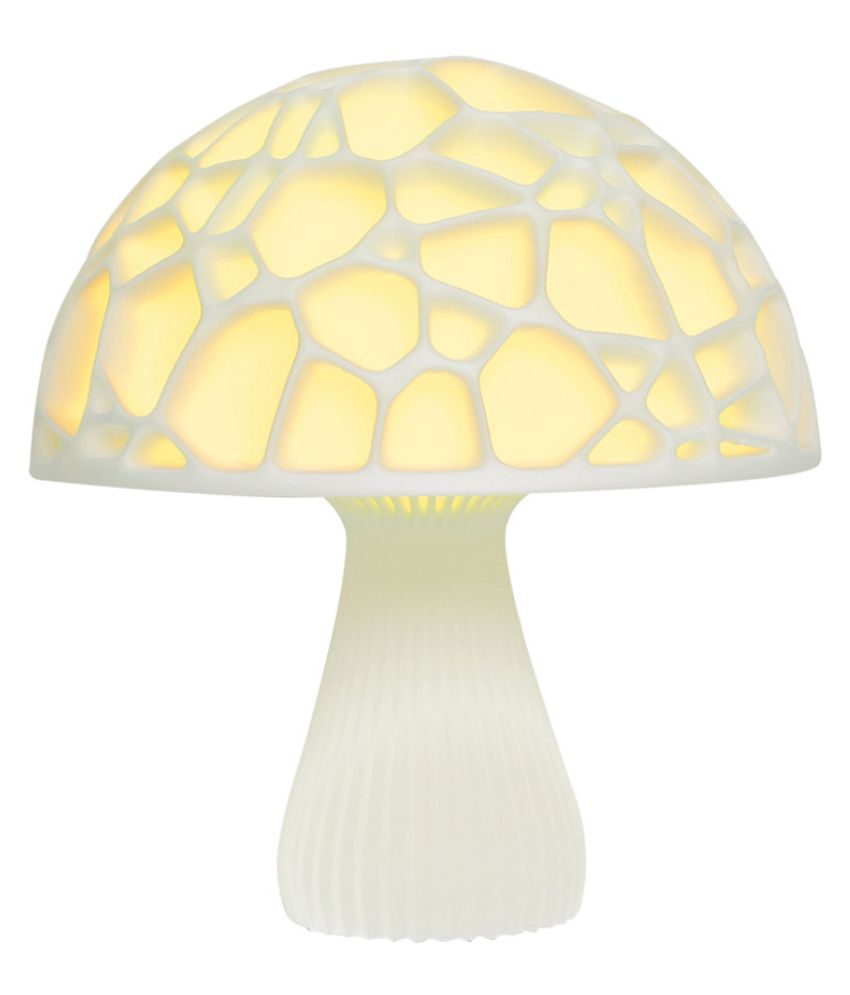 No need to visit a location afar to create a romantic atmosphere to impress your partner. Setting the right brightness level and color will give you all the better things. 

Make a very thoughtful gift on any occasion - A perfect gift: express your love with this warm gift. Your kids or beloved one are unable to resist this charming gift. And it's also a great decoration for your house.
How to Use:
1.Use remote control change color.
2. Long press the metal ring to adjust the brightness, and it has the brightness memory function.
3. If your hand is too dry or the temperature is too low, the light may not respond.
4. The white light will not shine when power is low.
5. Insert the DC connector into the metal ring at the bottom of the mushroom lamp to charge, the red light is always on during the charging.
6. The red light will automatically turn off when fully charged.
Specifications :
- Material: PLA 
- Wattage: 1W 
- Brightness: steeples adjustment
- Style: 2colors / 16colors
- Color temperature: 3000K / 6000K / RGB
- Battery capacity: 1 x 500mAh li-po battery ( built-in )
- Charging time: 1 - 3 hours 
- Working time: 6 - 10 hours ( depends on brightness ) 
- Power supply: USB DC 5V 
- Surface accuracy:12.5um