Folding Portable Iron Mini Collar Iron Electric Mini Iron With Double Ironing 6 Heat Settings
Everyone wants their outfit to look clean and crisp. However, pressing clothes with traditional iron may straighten larger areas of the clothes, but areas like pockets, pleats and collar stay untouched. If you're looking for an iron that reaches every inch of your clothes and light enough to carry or store, this 2 in 1 portable iron is the answer. 
Being the most innovative and smallest iron in the world, the iron is sturdy enough to press your clothes at home as well as when you're travelling. Get clean and crispy looking clothes anywhere and anytime.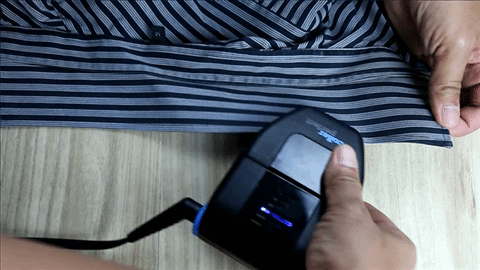 It comes with a dual voltage design ( 110-220V), no matter which country you're in or travels to, this irons voltage is compatible with almost all countries in the world. No more stressing over the difference of voltage. 
You'll love the dual ironing mode. The first mode allows you to clip both the wings of the iron and use it for pressing areas like collars, pleats, pockets, trouser legs, shirt hands, etc. the other mode is where you unclip both the wings and use it for pressing larger areas, just like the traditional way. 
Features :
Smart, portable and innovative

Dual voltage design - the voltages range within 110-220V, making it compatible with almost all countries.

No need to sprinkle water

lightweight design: weighs 0.81 kg. it gets folded similar to the size of your palm

2-Ironing modes: Clip the wings to press difficult to reach tight areas. Unclip to use as a traditional iron.

Temperature adjustment modes: polyester fiber, silk, wool, cotton, denim, linen, for each fabric, you can choose a different temperature. 
Benefits :
Portable iron allows you to carry in your suitcase or use primarily at your home. Either way, it works perfectly. 

Easy temperature adjustments allow you to choose the right temperature for any fabric. 

Quick touch ups before leaving for office or a special occasion can be achieved easily. 

Makes a perfect gift for the person who hates stepping out with wrinkled and un-ironed clothes.