Solar Powered Bird Bath, Solar Bird Bath Fountain Pump, Solar Powered Water Fountain Pump For Bird Bath, Garden, Pond, Pool, Outdoor
Innovative and eco-friendly products play a remarkable role in improving the health of the planet by reducing the consumption of energy. Now you can find the same innovation in one of the decors. If you have a patio, garden, or small pond, a solar-powered birdbath is the perfect eco-friendly decor to embrace the charm of the area. All it requires is direct sunlight. No external power source is needed. 
The solar-powered bird bath houses high-efficiency solar panels. When the direct sunlight falls in the panels, the solar cells get charged enough to pump the water giving your garden a very calm and soothing atmosphere.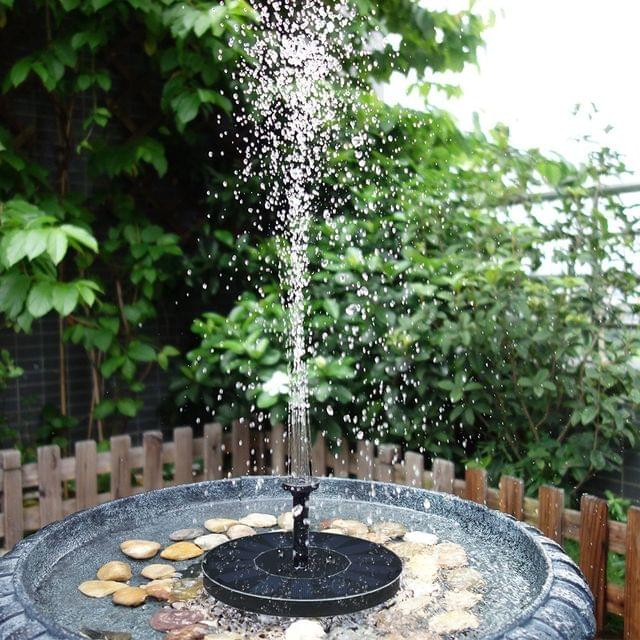 Installation is easy. You can set it up within a minute without a professional hand. Since it is a solar-powered accessory, there is no hassle of long wires or cords. Pick the desired place with water, place the birdbath, allow the cells to get charged, and wait for the magic. 
Features :
Hassle-free installation - requires no professional, no wires, no external power source—just sunlight.

Eco-friendly - entirely powered by solar energy. You don't need to think about putting in new or replacing batteries. It Prevents the environment from chemical waste. 

4-Customized sprinkler - the birdbath allows you to adjust the height and change the pattern of the sprinkler ranging from one to four. 
Battery powered -  battery will charge the solar bird bath so that you use it even in the dark.

it is durable and built to last long 
Benefits :
It is a great conversation starter- having this beautiful garden decor will impress your guests and neighbors.

It's a perfect go-to kit for improving your houses' surroundings by enhancing the water circulation for oxygen. 
Bring this solar fountain to someone throwing a housewarming party. Its uniqueness and practicality will make the recipient think of you every time they see it. 
You'll Also Love These