Talking Hamster, Interactive Stuffed Plush Animal Talking Toy Cute Sound Effects, Talking Toy That Repeats What You Say
Do you like playing with small stuffed toys? Add some more excitement and amusement to your playtime with a talking hamster.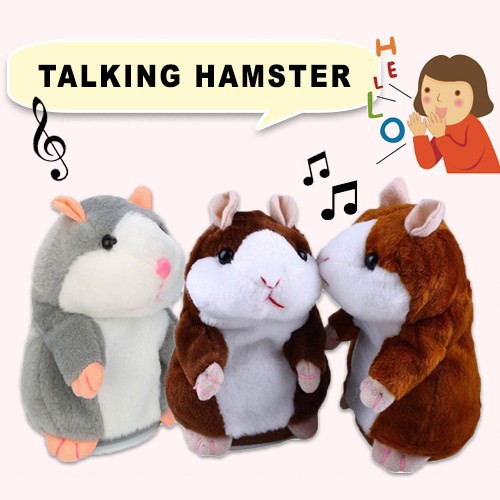 This adorable talking hamster will repeat everything you say, no matter whether it's the voice of a male or female; you can press or squeeze the left paw of the hamster to record the voice of length 5 secs and enjoy listening to funny high pitched clitter voices. 
The talking hamster runs on 3AAA batteries, and while the hamster speaks, he nods his heads in every direction and shows his groovy moves.
His star performance will lift the mood of any party and create amusement. The soft plush toy will be a perfect entertaining companion for kids when bored with other toys. The repeated talking action will make your kid happy and allow your kid to speak more often. 
features :
Speaking toy:

 The toy speaks in a high pitched voice that is audible and easily understood. Utter a sentence, sing a song or speak a different language.
Easy to operate: the operation includes recording, and it is very easy to record. Just press the left paw and record anything for five secs; either it could be a song lyric or a funny message. The hamster will repeat the same words in its cute voice. 
Sensitive audio receiver: whether you're male or female, the talking hamster detects all voices. 
Shake and dance:

to make him shake and dance, touch him anywhere while speaking, and he will bop his head up and down. 

Height: 

7"

Batteries:

3AAA (not included)
benefits :
Ideal for parties:

The talking hamster will be your new companion who can amuse your family members and friends at a party or gathering with his funny voice and show his cute groovy moves. 

Great for kids: 
Give as a gift:

The talking hamster is a lovely gift idea for your friends with kids. Undoubtedly their kids will love this adorable talking creature.