Tummy Time Baby Water Mat Infant Toy Inflatable Play Mat for Newborn Boy Girl
Undoubtedly, you love your kids very much and give them all the care so that when they grow, they don't remain underdeveloped and compete with what life has to offer. Being a caregiver, you need to make sure that your child's body is growing well while building good strengths and muscles. To ensure that, the tummy time water mat is the perfect playtime accessory for infants. 
Tummy time water mat is an inflatable playtime mat for infants that appears as a colorful underwater seascape. This mat will keep your loved ones entertained and make them have a good tummy time bath.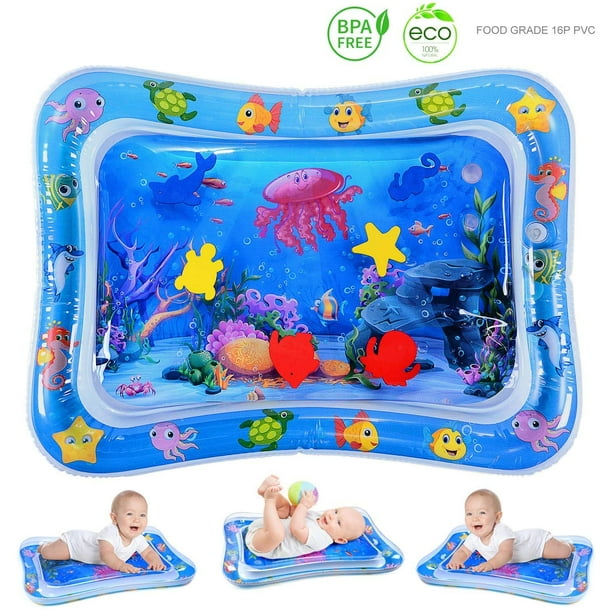 One of the key benefits of offering this mat to your kid is that they'll develop muscles and gain strength. This activity also helps in developing better eye-hand coordination. 
Features : 
an excellent playtime accessory for kids 

inspired by ocean gives stunning visuals of seascape

100% leak-proof, made with durable materials BPA free

completely safe for infants

large play space

easy setup and easy to store
Benefits :
keeps your kids engage with stunning visuals of seascapes 

the floating toys will help build better eye-hand coordination

help understand cause and effect

help strengthen muscles and build strong neck, legs, and back

Makes a perfect gift for new parents.
Specifications:
Material: 0.3 Food Grade 16P Environmental PVC

Size: 27" x 21" x 2.36"

Weight: 0.71 lb

Age Range: 3 months and up

Package size: 5.9 x 5.5 x 1.9 inches

Package: 1 x Water Play Mats
You'll Also Love These